Click Here For More New Boots and Shoes
*NEW* Even More Boots and Shoes
Boots, Shoes, Sandals, etc.
The following items are all new, and some of our current pictures are of prototypes.
Final pictures will be posted soon, but for now, here is a sneak preview of upcoming developments...
IMPORTANT NOTE ON OUR FOOT WEAR.
All our foot wear is custom assembled by our cobbler. We will not be selling any foot wear
"off the shelf", since everyone has a slightly different measurement. If you have ever
experienced that "well, they fit not too badly" scenerio, then we hope to avoid this.
Our footwear will be 100% custom made, specifically for your foot & leg.
We trust our approach to footwear, although the old world way, will mean a better fit, and
a source of pride, when you show off your custom, cobbler fitted shoe/boot.
When ordering any foot wear, we will supply the customer with a diagram, requiring the customer
to take his own measurements of foot, leg, ankle, etc. Our cobbler will work from your
measurements, much the same as a tailored tuxedo.
You will have tailored footwear for an off the shelf price.
Our footwear will be left & right, unless customer specifically asks for straight last construction.
By the way, ALL our leather goods are Vegetable tanned.
Foot sizing chart and ordering instructions,...click here.

LEATHER MAINTENANCE .... HUBERD'S PRODUCTS
*SEE BELOW*
---
MUSKETEER/BUCCANEER BOOTS
OUR MUSKETEER/BUCCANEER BOOTS ARE CONSTRUCTED IN BOTH ROUGH OR SMOOTH OUT, AND
IN IN EITHER BLACK OR NATURAL TAN.
THEY ARE AVAILABLE IN SIZES UP TO 13, HAVE A SQUARED TOE, BLOCK HEEL, AND SOLID SOLES,
WHICH ARE STITCHED, AS WELL AS NAILED.
Although originally designed for the cavalry, these stylish boots soon caught on with gentlemen and officers
throughout the armies of Europe in the 17th Century.
Perfect for that swashbuckling look of the 17th-early 18th century.

Many of these style boots were discovered in the sunken section of Port Royal Jamaica.
Although we cannot assume that buccaneers in general, wore these boots,(as Hollywood would suggest), some,
wanting to play the part of a gentleman, would probably have donned them, while dressing up for a night on the town.
These boots would have been more of a fashion statement, rather than a necessity, especially aboard ship.
Many Royal Navy captains and privateer captains probably wore these as well as buckle shoes.

The boots on the left (our older style), have a lower heel and a squared off, but slightly rounded toe, while the
ones on the right (Our new style), have a very square toe and high tapered heel, similar to the period shoes.
When ordering these boots, please specify old or new model boots, color, and rough or smooth out.
click on image for closeup.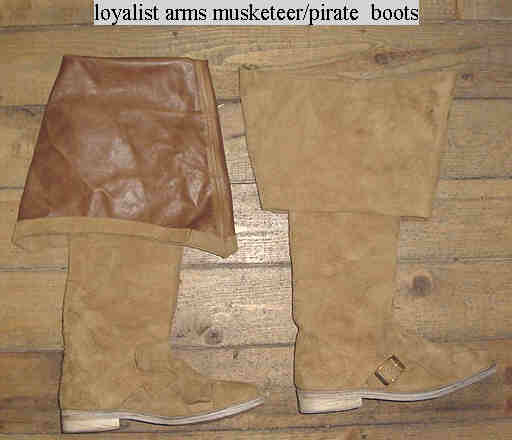 .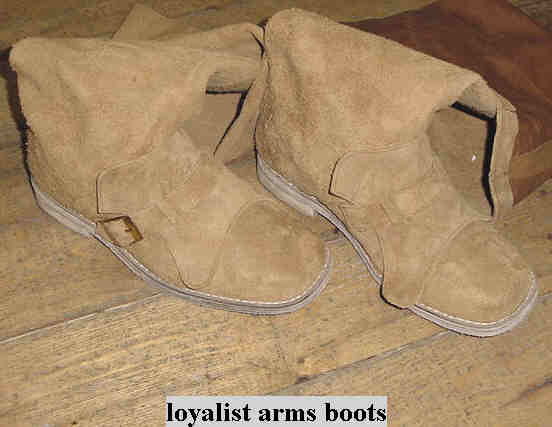 .....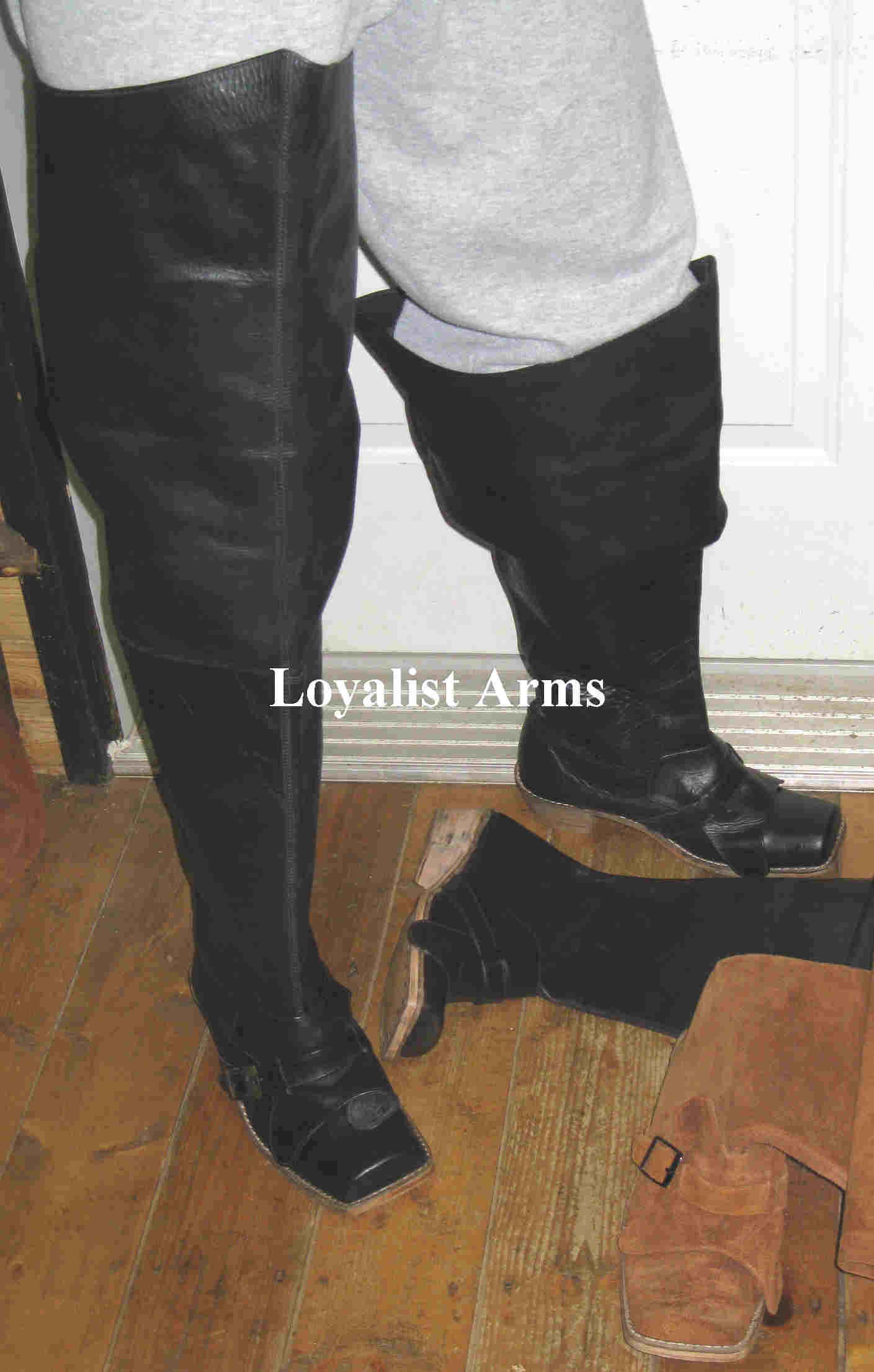 .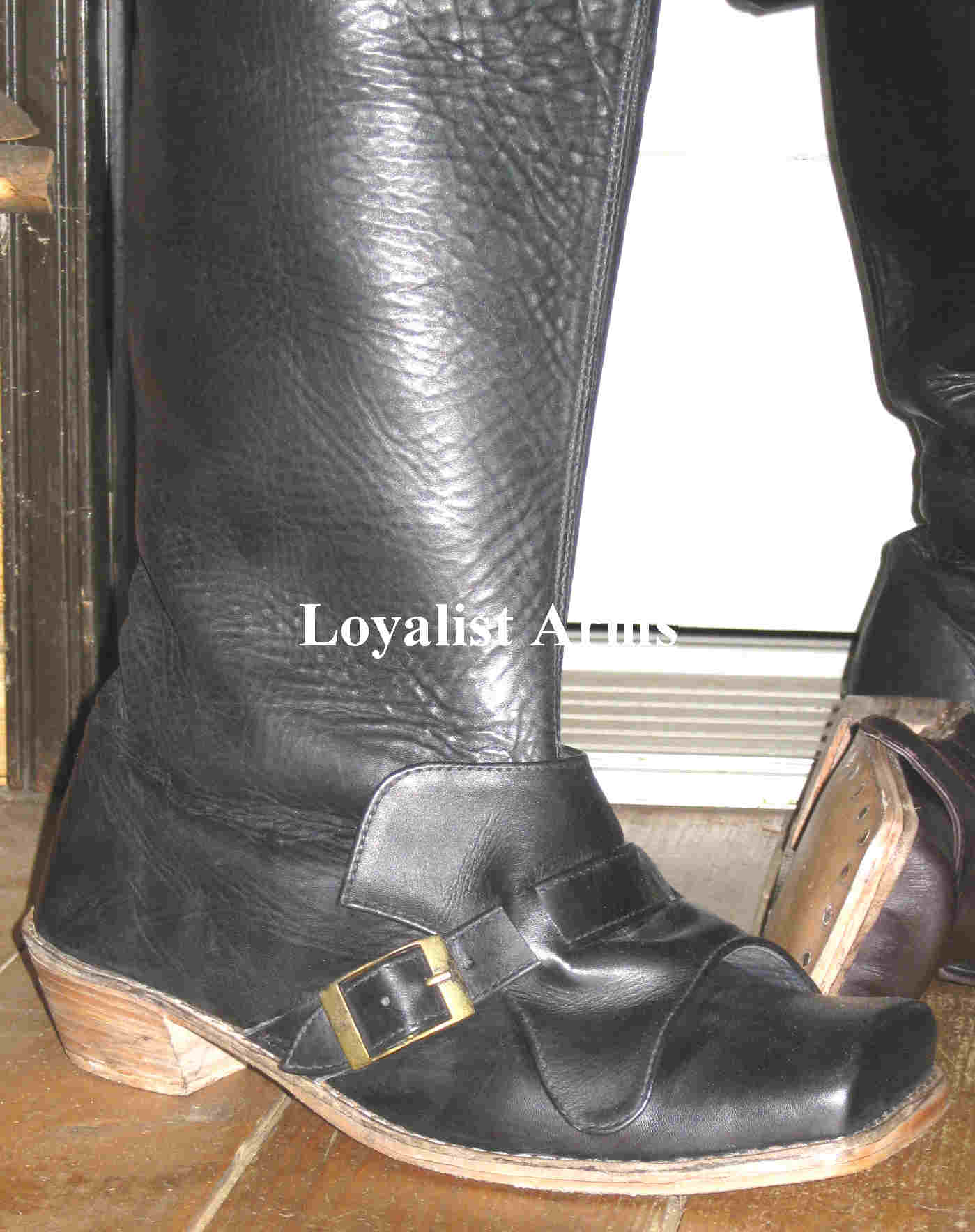 Current price: $224.00US/ $239.00 Cdn.
LATE 17TH-EARLY TO MID 18TH CENTURY BUCKLE SHOES.
FINALLY, ACCURATELY STYLED SHOES FROM THIS PERIOD, RIGHT DOWN TO THE SMALLER
BUCKLE, HIGH HEEL AND SQUARE TOE.
A lot of research has gone into these shoes, using pictures from artifacts discovered on the shipwreck Whydah,
as well as one of Phips ships, and several museum samples in Europe.
These shoes are appropriate for European and Colonial civilians, soldiers, pirates, etc.
They will be custom made just like our musketeer/pirate boots.
Heels are nailed and pegged.
Available in black or tan, rough or smooth out, & in sizes up to 13.
The Early style will fit the 1680's-1720 period, and the Later Style, from about 1710's-1740's.
By lowering the heel and widening the latchets, we can date the later style shoe to about 1760's or later.
click pics for close up.
.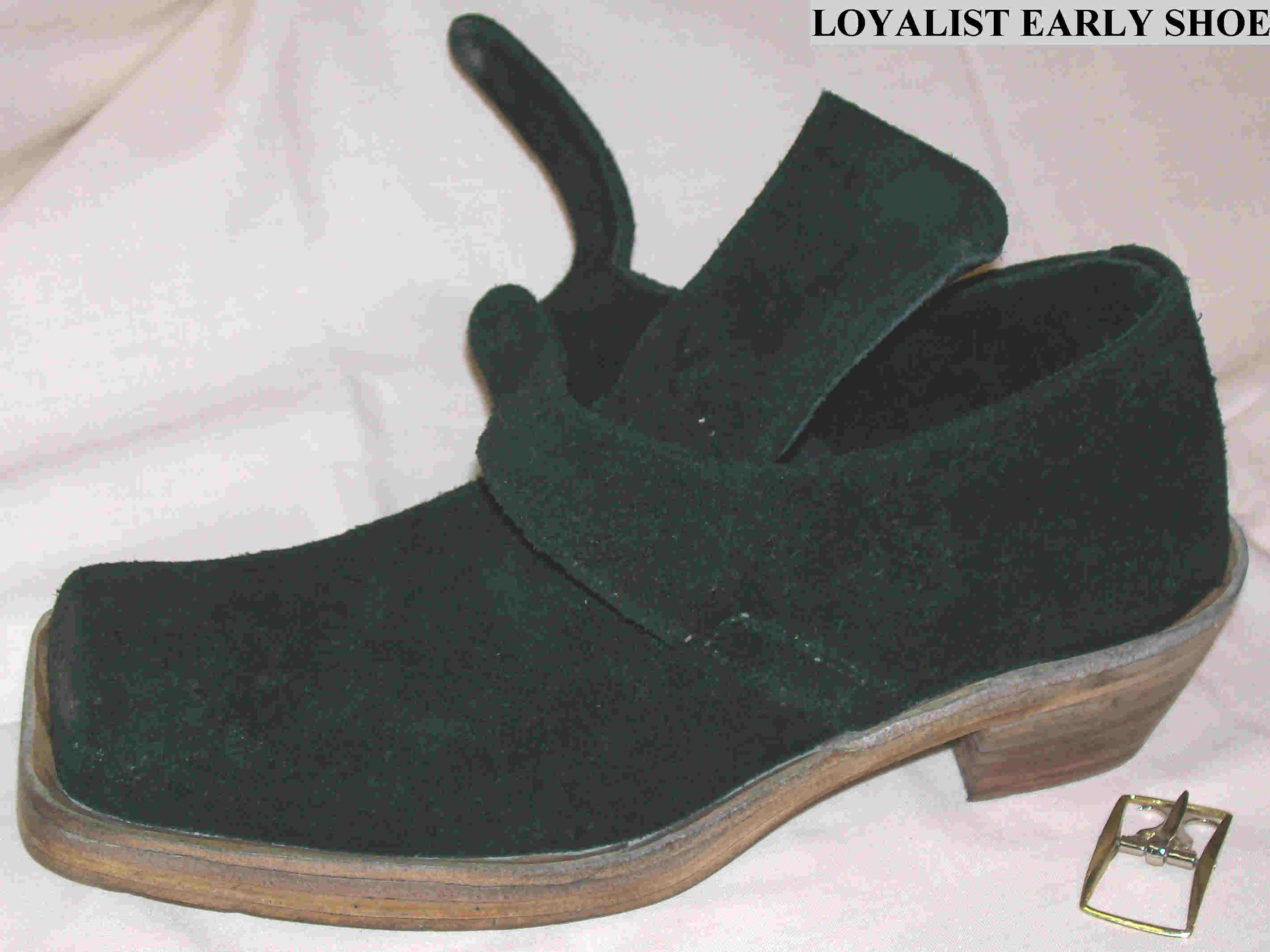 .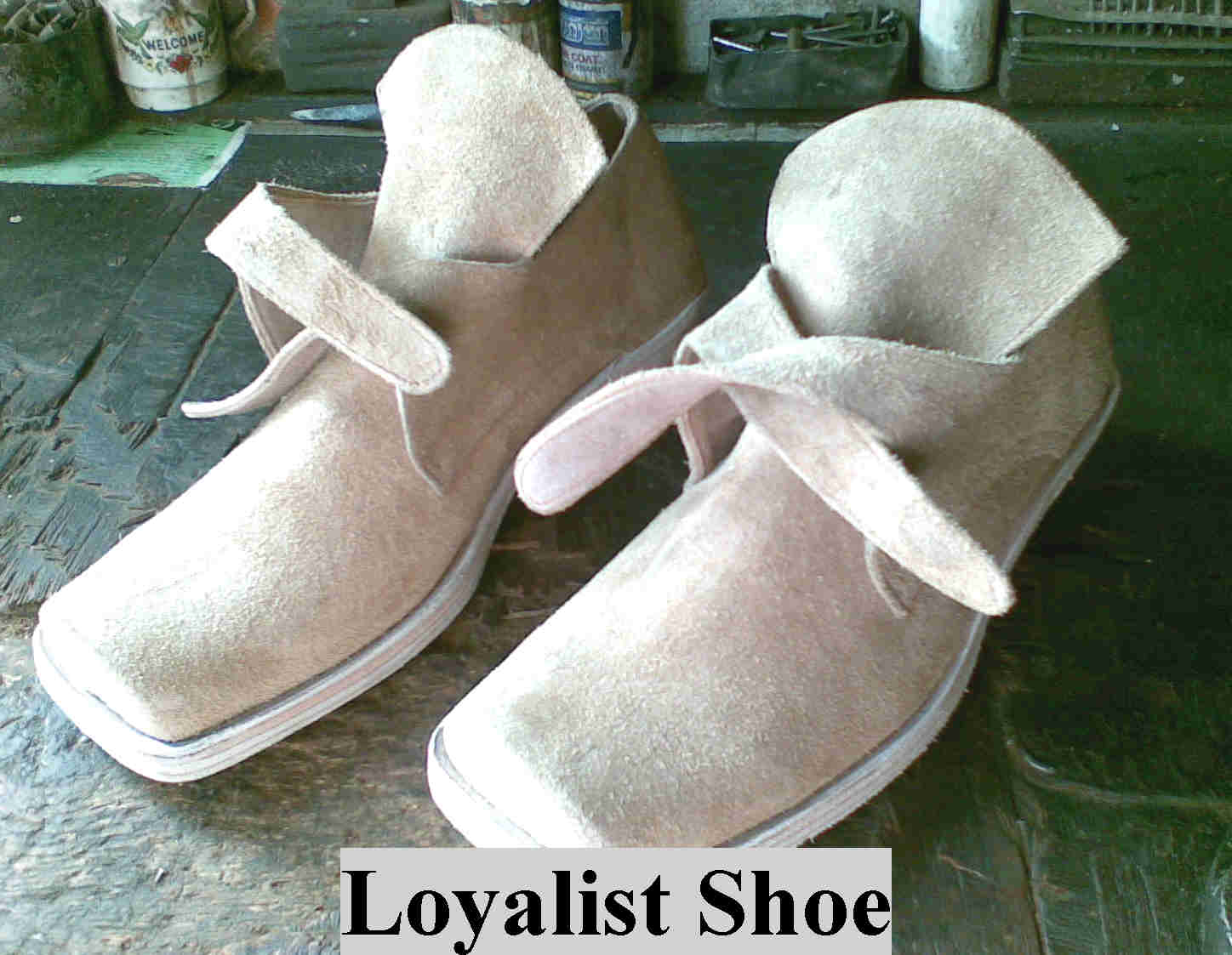 .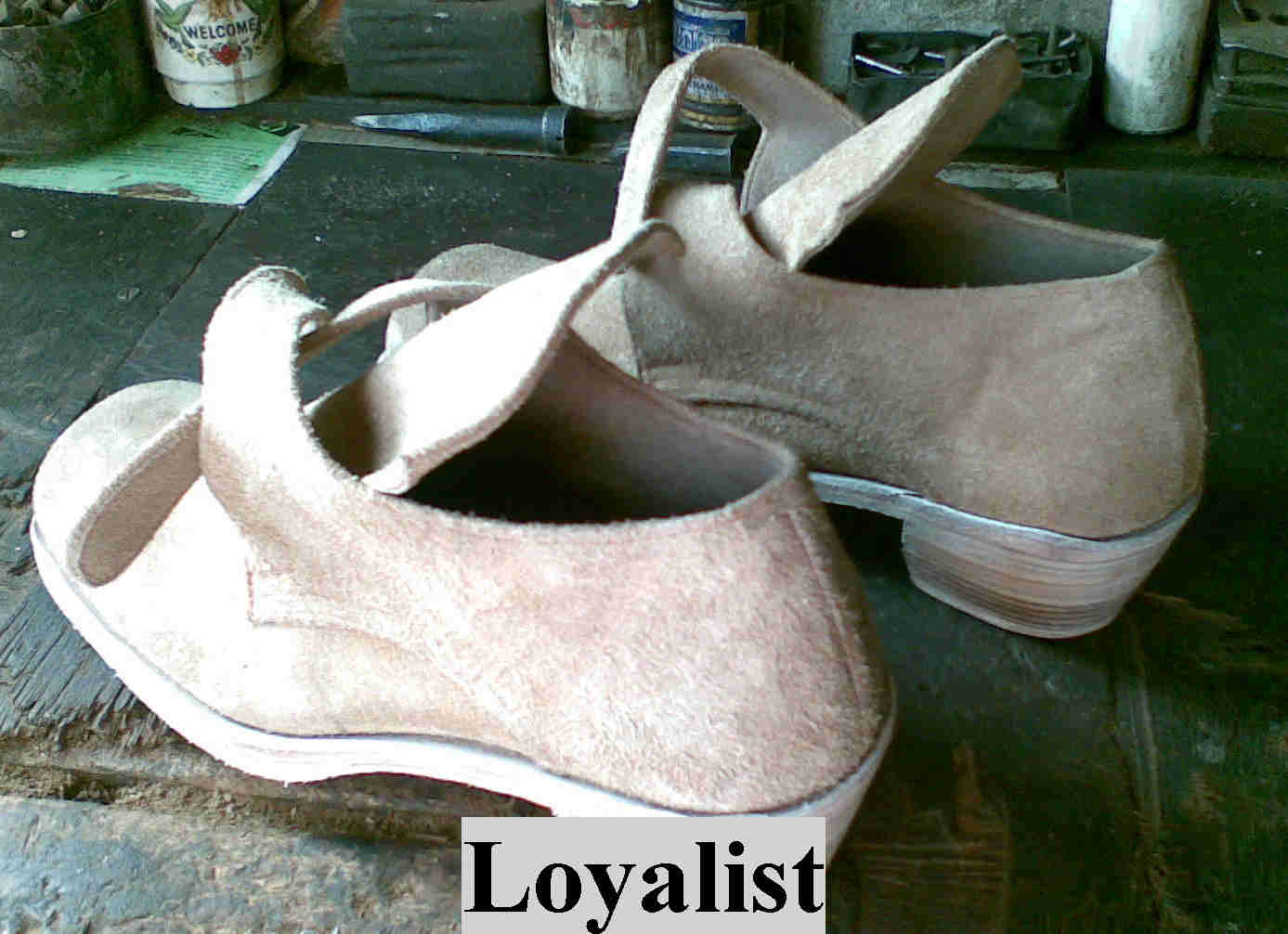 .
Style #2, Early shoes...................Style #1, Later period shoes...........
The main difference between the two, is the side seam shape & location on the uppers.
*** IMPORTANT ***
WHEN INQUIRING ON OR ORDERING THESE SHOES, PLEASE REFER TO THEM
SIMPLY AS EARLY OR LATE STYLE TO AVOID CONFUSION.

Price: $135.00US/ $140.00 Cdn.
A final note on shoes made prior to the mid 19th C:
Since all early shoes were made individually by cobblers for different clients, styles varied greatly,
influenced by economics, clients taste, ethnic background, etc.
There was no set pattern of shoe from any period, only general similarities.
Loyalist Arms would like to thank all the many customers, who have enthusiastically contributed pictures,
measurements, research material, and suggestions to assist us in developing these two new shoes over
the last several months . It's customers like you, who help us do our best.
Special thanks is due to the contributing pirate reenactors on this project.
Fair winds to ye Brethern.
---
MID 18TH CENTURY TO EARLY 19TH C. BOOT
COMING SOON...
We are now carrying a mid 18th century- early 19th century gentleman / officers boot.
Sometimes referred to as "Paul Revere Boots", although Paul Revere did not invent them.
This model has the fold down flap, just under the knee high rim.
Popular throughout Europe and North America
Picture coming soon
Price: $199.00 US/ $212.00 Cdn.

19th CENTURY "OVER THE KNEE" CAVALRY BOOTS.
FOR OFFICER OR REGULAR CAVALRYMAN ALIKE.
DESIGNED FOR US CONFEDERATE, UNION, AND BRITISH DRAGOONS AND CAVALRYMEN.
A common style used throughout Europe and North America from the 1830's-80's.
click on image for closeup.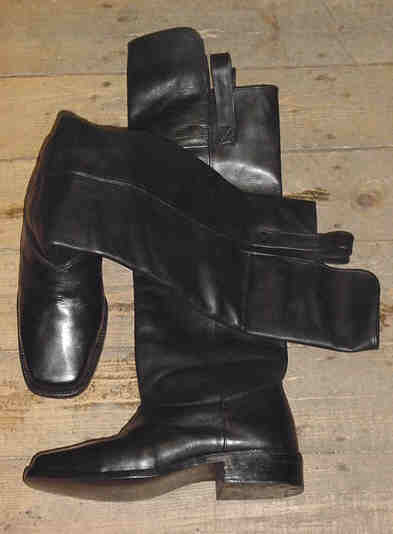 Price: $199.00US/ $212.00Cdn.
19th CENTURY BROGANS.
OUR CUSTOM MADE BROGRANS FOR CIVIL WAR PERIOD TO LATE 19thC.
Steel heel plate and leather thong/lace included. Available in smooth out or rough out.



Price: $105.00US/ $116.00 Cdn.
MEDIEVAL ANKLE BOOTS.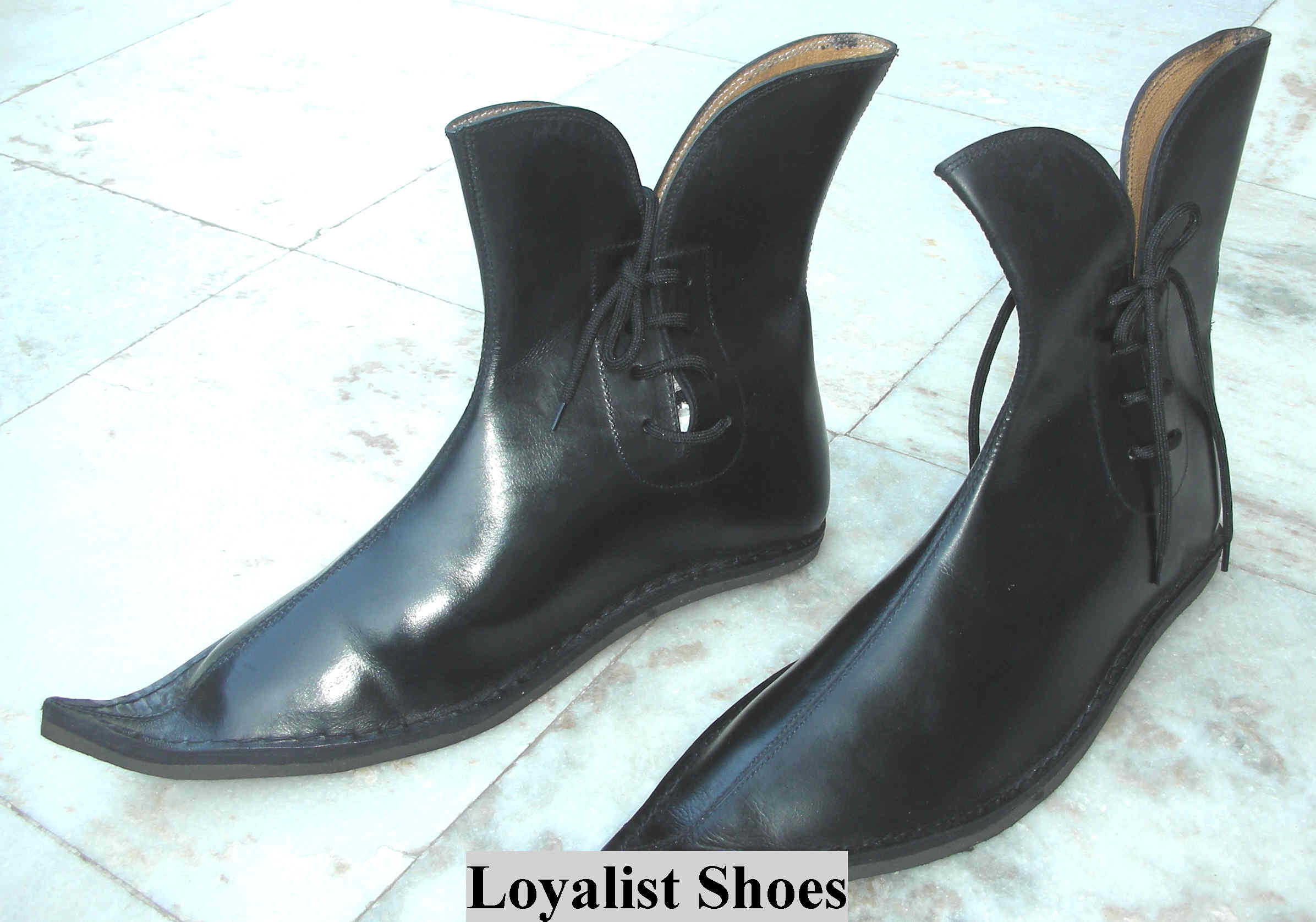 PROPER MAINTENANCE FOR ALL YOUR LEATHER GOODS.
Since you have invested in your leather goods, you will need to properly care for them to insure a long life.
We recommend Huberd's; the finest leather care products available.
Huberd's leather care products are made from all natural ingredients, including pine tar and bees wax.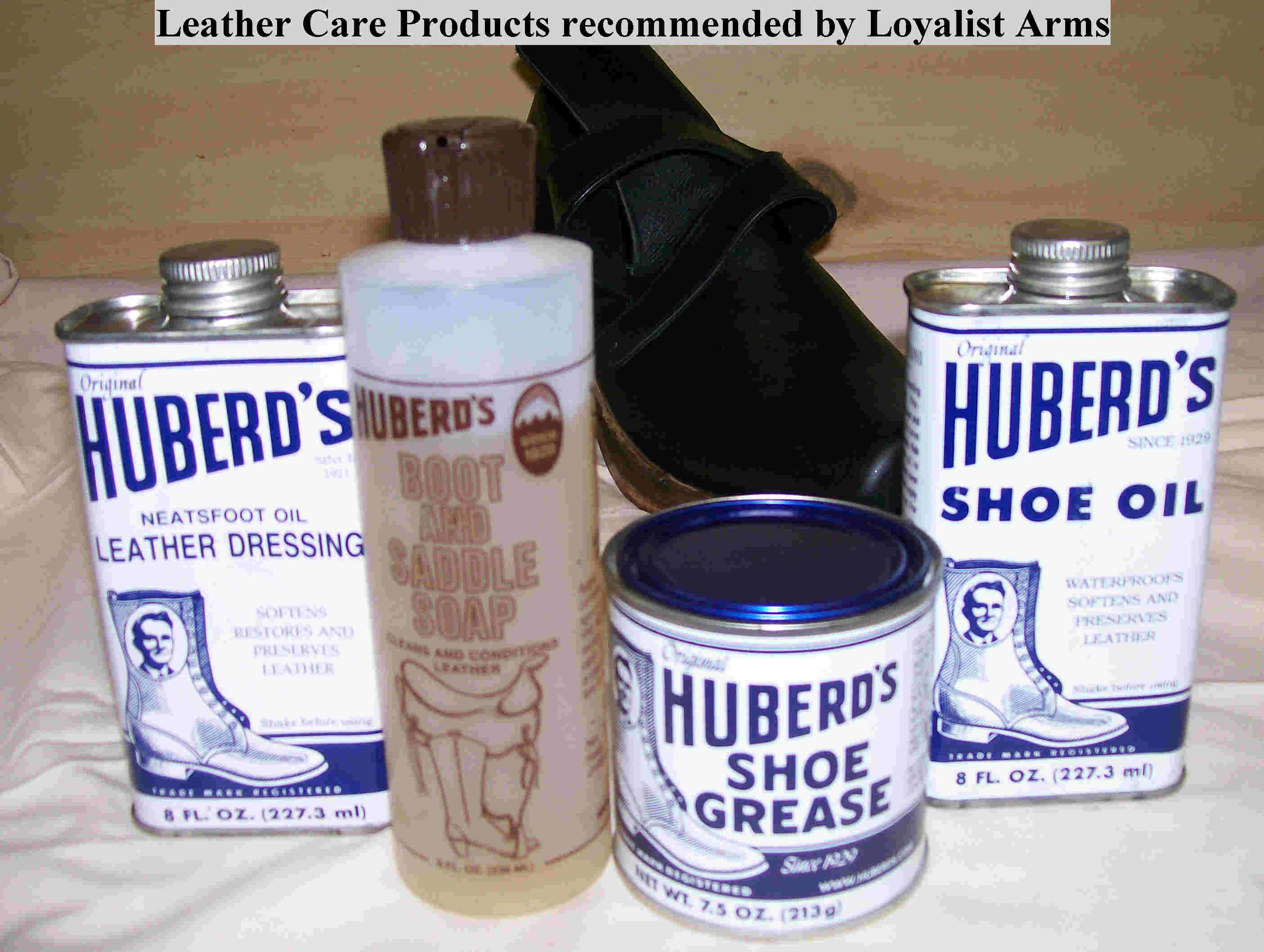 These products contain no animal fats nor solvents, that could damage leather.
List of products:
Shoe Grease: Can be used on any leather product, (except suede), but especially recommended for heavy
use items such as work boots, saddle & tack, and boot and shoe soles. We use this product exclusively for
leather soles and it works great. Waterproofs, preserves & softens. Price,(Cdn): $10.00/7.5 oz. tin.
Shoe Oil: Great general purpose protection in an easier penetrating form. Protects against moisture, mildew
dryout from chemicals and rotting. Excellent for shoe and boot uppers but not recommended for white
leather nor suede. Price(Cdn): $9.95/8 fl.oz. can.
Leather Dressing: Excellent for Horse tack & saddles. Can be used for any leather product except suede.
Exceptonal for resisting drying out under hot, dry conditions as well as cyclic wetting & drying. Keeps all
leather soft and pliable. Price,(Cdn.): $7.99/8 fl.oz. can.
Boot & Saddle Soap: Blend of mild cleaning agents and conditioners for all leather products, except suede, but
especially effective on saddle and tack. Prevents drying out and stiffness. Price,(Cdn.): $7.99/8 fl.oz bottle.