1840 US Flint musket
cone in barrel conversion to percussion
sometimes called the French or Belgian system.

Loyalist Arms does it again !!
Another new model Civil War musket for 2006.
During the 1850's and especially at the onset of the American Civil War, huge numbers of flint muskets were
converted to the percussion system to meet the sudden demand for arms by both sides.
Everything from the old 1795 Springfields to the latest flint models were re-used, with the most recent models converted first.
The 1840 model, (sometimes called the 1835), was the last of the official flintlock muskets to be produced.
There were 30,421 of these muskets produced and over 90% were altered to percussion, making the flint
version of this gun exceedingly rare today.
There were several methods of conversion, but we have chosen to copy the most common "cone in barrel" method.
The old flint plate is retained and a percussion hammer strikes the nipple seated directly on the barrel.
We are the only company to offer such a conversion musket in the world.


All furniture is iron and is almost identical to the later 1842, which was copied from this design.
Bayonet lug is mounted on the bottom of the barrel and front brass sight is brazed to the front band.


Left side showing it's similarity to its' sister, the 1840 US musket.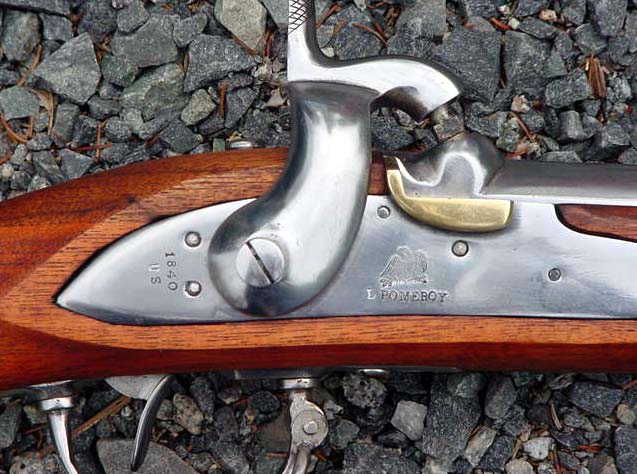 Closeup of lock assembly.
Remains of the old flashpan can still be seen.
The hammer is very long and offset; very different from the 1842 model.
Markings are: Eagle over "L.Pomeroy" ahead of hammer, and "1840/US" on the tail.
"P" & "V" on barrel near breech and "1840" stamped on bbl. tang. "U.S" stamped on butt tang as well.
Since this musket is a prime example of the typical converted percussion firearm of the period, it serves a dual purpose
for those interested in portraying Confederate forces, who used these guns throughout the conflict, as well as
early Union forces and militia, who used these stop-gap weapons until "proper rifled muskets " became available..
General Thomas, (Stonewall), Jackson was shot with .69 cal smooth bore muskets by his nervous
pickets one evening in 1863.
Could this model have been one of those used that fateful evening?
SPECS:
Barrel: 42" long, tapered round, in .69 cal.
OAL: 57 3/4"
Weight: approx. 8.8 lbs.
Takes Euroarms musket nipple, 8X1.25 mm. thread.
Since these muskets are a new offering by our company, there is presently, a limited supply.
Proofing and loading data sent with all muskets.
6 month warranty on all moving parts and 1 year on all springs, free parts and labor.
Order yours today.
Price: US $493.00 / Can. $539.00
***BAYONETS NOW AVAILABLE !! @ $45.00 US each.***